Check Availability This Room
Room 4 is a double (with the possibility of an extra bed), with en suite bathroom, located on the first floor. It has a large window overlooking the garden.
THE HISTORICAL FIGURE
Antonios de Trueba (Writer, musician, "Tiote" (super uncle), father, brother and nephew)
Montellano (1819-1889) Bilbao,…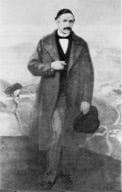 Antonio de Trueba, known as "Antón el de los Cantares" (Antón the songsmith"), writer of manners and moralist, moved to Madrid as a young man. He is the author of El libro de los Cantares, Cuentos de color de rosa, Mari Santa and many other titles. In 1862 he was proclaimed "Chronicler and Archivist of the Dominion of Biscay" by the General Assemblies of Biscay and settled in Bilbao where he died and where a monument designed by Benlliure was erected by public subscription in the Jardines de Albia.
Antonio de Trueba Aguinagalde, musician, Zumaya (1855-1944) Bilbao, displayed great musical talent from an early age and in his long career composed numerous works including mazurkas, masses, symphonies and the Salve Regina, which has been heard in the Arritokieta shrine in Zumaya on the 7 September every year since 1885.
Antonio Trueba Aguirre was el Tiote, doctor, dentist and composer of tangos. Antonio Trueba Araoz is my father, Bilbao (1922-1993) Bilbao, and as well as a great father, had a brilliant scientific mind and ended up as a Commander of the Order of Carlos III. Antonio Trueba is also the name of my doctor brother and nephew.
FACILITIES
Two single beds (with the possibility of an extra bed. Art. 114. Section 3). Two bedside tables. Desk with chair and reading lamp. Armchair. Wardrobe with drawers or shelves and a sufficient number of hangers. Two bedside lamps. A wastepaper bin. A spare blanket for each bed. Curtains and blackout curtains. Easy-to-use electric sockets located in visible place. In addition it has:
Clothes stand, mirror, rack for suitcases and a light switch next to the bed head.
Area of the room: 15.05 m2.
The bathroom is equipped with the following facilities:
Bath, washbasin and toilet. Mirror and light above washbasin. Shelf or cupboard for toiletries. Socket. Shower curtain. One set of towels per guest and place to hang them. Bath mat, a roll of toilet paper on a holder and a spare. Waste bin and toilet brush for cleaning the toilet bowl.
It also has the following equipment: stool, non-slip floor in the shower, magnifying mirror, hairdryer, toiletries: hand gel, shower gel, shampoo, cologne and sanitary towel bag.
Area of bathroom: 4.7 m2.
Regular plan
| Mon | Tue | Wed | Thu | Fri | Sat | Sun |
| --- | --- | --- | --- | --- | --- | --- |
| 0,0€ | 0,0€ | 0,0€ | 0,0€ | 0,0€ | 0,0€ | 0,0€ |